LTC3115 Synchronous Buck-Boost Converter Getting Started Guide
Linear Technology introduces the LTC3115-1's high temperature Class H (-40°C to 150°C junction temperature) and high reliability MP stage (-55°C to 150°C) versions with 20-pin resistance Thermal performance enhanced TSSOP package. The LTC3115-1 is a synchronous buck-boost converter that achieves up to 2A of continuous output current from a single-cell Li-Ion battery, 24V/28V industrial power supply, and a wide supply range of 40V automotive inputs.
The LTC3115-1's 2.7V to 40V input and output range provides a regulated output, while the input can be higher, lower, or equal to the regulated output. The low noise buck-boost topology used in the LTC3115-1 enables continuous jitter-free conversion between buck and boost modes, making it ideal for RF and other noise-sensitive applications that must be variable Maintain a low noise constant output voltage in the input supply. Up to 95% efficiency extends the runtime of battery-powered systems. The user can set the switching frequency of the LTC3115-1 from 100kHz to 2MHz and synchronize to an external clock. A proprietary buck-boost PWM circuit ensures low noise and high efficiency while reducing the size of external components. The combination of tiny external components and the TSSOP-20E package creates a compact footprint solution.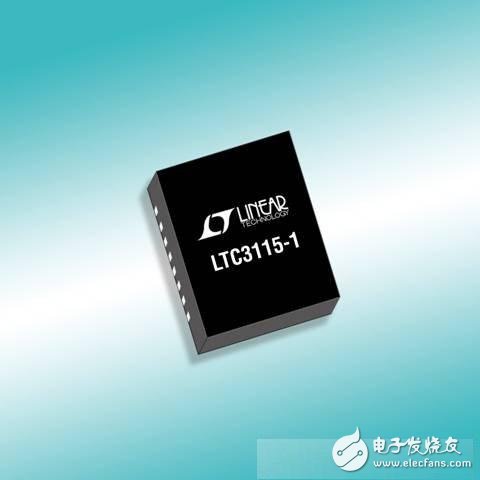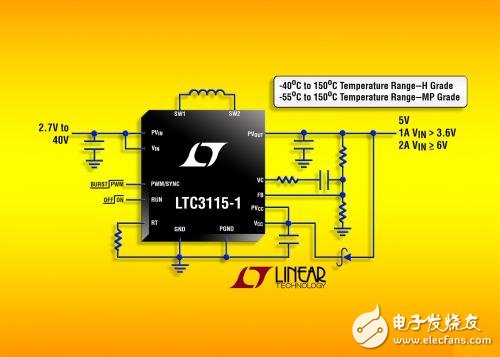 The H-grade version operates from -40 ° C to a maximum junction temperature of 150 ° C, ensuring proper operation over this temperature range. Similarly, the MP version has an operating junction temperature range of -55 ° C to 150 ° C, which is guaranteed and tested over this temperature range. The electrical specifications of the H and MP grades are consistent with the industrial grade. The device is ideal for automotive, industrial and military applications where extreme ambient temperature conditions are required.
Performance summary:
LTC3115H/MP:
Wide VIN range: 2.7V to 40V
Wide VOUT range: 2.7V to 40V
1A output current (for VIN ≥ 3.6V, VOUT = 5V)
2A output current (for VIN ≥ 6V in buck mode)
Programmable frequency: 100kHz to 2MHz
Can be synchronized to an external clock up to 2MHz
Up to 95% efficiency
No load quiescent current of 30μA in Burst Mode®
Ultra Low Noise Buck-Boost PWM
Internal soft start
3μA supply current in shutdown mode
Programmable input undervoltage lockout
Thermally Enhanced 20-Lead TSSOP Package
MP grade range from -55 ° C to 150 ° C temperature range
H-class of -40 ° C to 150 ° C temperature range

The main circuit of the equipment is the full bridge controlled circuit and the trigger circuit is the programmable integrated circuit. The phase-shifting, fixed width and modulation of the pulse are all digitized, and it does not need any adjustment for the section of the trigger. It has the features of high reliability, high pulse symmetry, strong anti-interference ability, quick reaction, as well as the advantages of no heat-generating, constant current, energy-saving which is compared with the discharge with the electrical resistance.
Battery Maintenance Charger,Battery Maintenance Equipment,Charging And Discharging Equipment,Battery Charge Discharge Machine
Xinxiang Taihang Jiaxin Electric Tech Co., Ltd , https://www.chargers.be